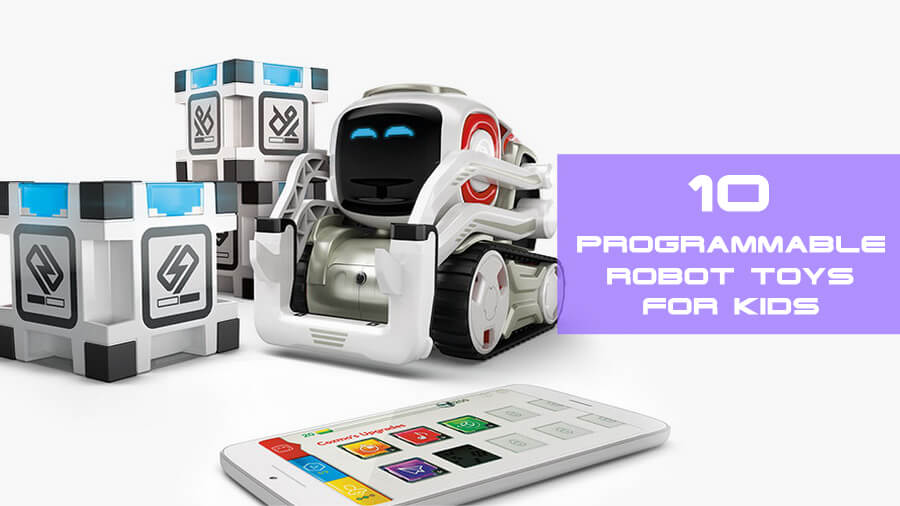 There is no better games than programmable robot toys to teach your kids basics of coding and computational thinking. Kids love nothing more than to be able to play, and when that play combines the use of gadgets like PC, smartphones, tablets and etc., then it captures the attention of your kids even more.
We have selected 10 such educational programmable robot toys that can get kids interested in coding.
---
1
Cozmo – AI Toy Robot
Recommended age: 8+
Promising Review: "Set up was fairly simple and painless, and I was able to start playing with Cozmo within 5 minutes of taking him out of the box. Cozmo reminds me a lot of Disney's Wall-E. He's a robot, but it's easy to feel like he has emotions. The animations that his eyes play, and his subtle movements really go a long way to make him feel more realistic. Cozmo will nudge you to play with him, bring a block up to you and ask you to play a game with him, or even act upset if he can't accomplish what he's trying to do.
Cozmo has an "adventure" mode, where you can drive him around like a remote control car and see things through his point of view. The companion mobile app gives you daily goals to motivate you to interact with Cozmo more.
The thing I'm most excited about now is playing with Cozmo's SDK, which will hopefully allow me to unlock more of his potential and create abilities for him myself." – book_thief
---
Recommended age: 10+
Promising Review: "After you program you robot model, the robot will either interact with you through the various sensors, running a simple loop or control it thorough the included IR Beacon/Remote. This is a great platform for learning linux. The P-Brick runs Linux on a ARM9 processor with 64MB RAM and 16MB Flash + up to 32GB of external storage via microSD. You can communicate with it over wifi dongle via telnet (only supports Netgear WNA 1100) and the Linux source code is available and well documented.
In summary, I'm am really happy that I got this fabulous and amazing EV3 mindstorms set. It is easy to use, has a large community of users and has a large eco system (i.e compatible with the older NXT parts and 3rd party devices).
Its a bit pricey but for all the things that you can do with it, so its easy to justify its value. Its a great way to introduce your kids to programming while having FUN!!" – H. Chan
---
3
Dash & Dot Robot – Remote & App-Controlled Robot
Recommended age: 6+
Promising Review: "This toy engages your mind and senses. You have to interact with the (free) apps to get Dash & Dot to do what you want them to do, which for most kids and adults who will be drawn to this toy – will be second nature.
Ages 5 and up are recommended for this toy, but younger kids can enjoy the Wonder Pack with supervision and assistance. Dash & Dot are perfect for helping curious kids who love to learn to build valuable skills they'll need in the future, while they play. The robots seem to take on a personality with lots of personalization possible. Ready to play inside, outside or on the go. Dot and Dash have motion sensing abilities and interact with each other, as well as the user.
I highly recommend the Wonder Pack to anyone who is drawn to tech toys or who wants to open up a world of learning and fun to anyone!" – Andrea Polk
---
4
Sphero 2.0 – STEM Educational Robot
Recommended age: 5+
Promising Review: "A truly amazing toy that must be seen to be appreciated. What is it? Here we have a robot that a child can learn to program and have fun at the same time. I promise if there was a little video screen in the store showing what can be done with this thing can do it would fly off the shelves faster than they could be produced. This is no exaggeration, probably one of the most amazing toys that I've ever seen.
A small child can take advantage of the basic features very easily, but an older kid can learn programming, game design, and more. This could easily entertain and instruct a college age student or adult.
Your kid will have fun and learn about robotics at the same time.It's a programming platform. It's a learning tool. It's a course in computer programming (see the "SPRK Education Program"). It's a course in mechatronics…to close I can only say "WOW!" – DXN-Schuylerville
---
Recommended age: 5+
Promising Review: "This activity set introduces the idea of solving a problem with a well-thought-out, step-by-step approach. And kids will enjoy doing it because it is just fun.
The ten activity cards are excellent for learning how the set works, but what will really challenge the kids is to create their own mazes and program the mouse to complete them.
This activity set teaches the value of a well-thought-out process for solving a problem using a step-by-step procedure. That's what real programmers do too. There is an old saying among air traffic controllers: make a plan and make it work. That's what this set teaches, and it is a great and valuable lesson to learn." – Donald M. Shepherd
---
---
Recommended age: 9+
Promising Review: "Pretty cool toy! I bought this for my 7 year old son who suggested that I rate this as "awesome!" It required about 4 hours to put together. This was not a big deal to me since part of the reason I bought it was to spend some time building robots and learn about gears with the kids.
It is a very well designed robot. The instructions are all pictures so it I just a matter of lining up the part you are building to the part you are working on.
I have been very pleased with how this robotic arm has held up! I have got all that I wanted and more with this product!" – Zeb Fisk
---
Recommended age: 8+
Promising Review: "Favorite purchase at and after Christmas. The robots are incredibly lightweight and relatively easy to assemble (with help from Dad). In three months of frequent use, I have not observed any mechanical or electrical issues.
While the app comes with a handful of pre-programmed games, the ability to innovate is where the "toy" shines. Both of my children are able to understand how buttons relate to trigger events, how signal responses are related to IR inputs, and, mostly, how changing the LED colors for the eyes and the sounds.
I programmed a short game with my kids, and it's really a great introduction to computer programming." – Paco
---
Recommended age: 8+
Promising Review: "This is one incredible little edtech toy!! These robots are easy to introduce right out of the box.
If you have more than one Evo connected to the free app at once, they will synchronize and operate in tandem. This is pretty cool to see! Beyond coding and unstructured play, there are so many creative possibilities to incorporate Ozobot Evo into standard activities and lessons.
We've used them timeline events in history, sequence or retell events in a story, make movies, practice handwriting, and so much more." – ClassedAndCurious
---
9
MeccaNoid G15 – Building & Programmable Robot
Recommended age: 8+
Promising Review: "I was so excited to build this robot with my 11 year old son. There are over 600 pieces and it states that you will need several hours to complete the robot. Let me tell you, they are NOT kidding!
This is a VERY cool toy for all ages! Meccanoid does so many neat things that everyone adores. He dances, he exercises, he tells jokes, he walks hand in hand with you. All around very neat little dude.
The robot was an excellent project for my son and I to complete together. I highly recommend doing this with your child." – Nikki
---
10
Robolink Codrone – Building & Programmable Drone
Recommended age: 12+
Promising Review: "I tried this out, because it's one of the more affordable drones around. Looks like you're supposed to use it to learn to code, so it comes with a remote that you have to assemble.
It's pretty well built, super light, and it's a lot smaller than I expected, actually. I've crashed it a bunch of times and dropped it from the sky, and it's been totally fine. The flight is really stable, too.
I would've been able to learn programming without realizing it. I think if your kid is really into RC cars or drones, it's a pretty good way to get your kids learning how to code while having fun." – B. Jang