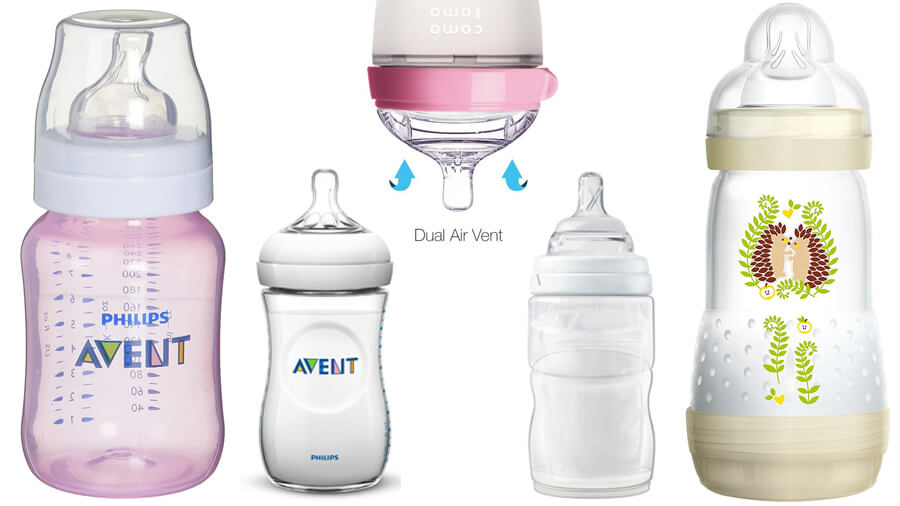 The right choice of the baby bottles can help prevent colic, burping and gas, avoid nipple confusion, control portion sizes, and save time on cleaning.
The problem is that there are so many different baby bottles on the market it can be difficult to know where to begin. To solve this problem, we have created a quick guide to baby bottles.
We took the top bottles recommended by experienced moms and added our own research and insight. We think you and your little one will love at least one of these items, too.
---
The Philips Avent Natural bottles are the most natural way to bottle feed. The wide, breast-shaped nipples promote natural latch-on so you can easily combine breastfeeding and bottle feeding.
The unique comfort petals inside the nipple increase softness and flexibility without nipple collapse, and the innovative twin valve anti-colic medium-flow nipple helps newborns feed comfortably and easily.
The ergonomic shape makes it comfortable for parents to hold and easy for small fingers to grasp. Assembly is simple with only a few parts and the wide bottle neck makes filling and cleaning easy.
These Natural Philips Avent bottles are made from polypropylene, a BPA-free material, and work with all nipples and caps from the Natural line.
Available Sizes: 2 oz, 4 oz, 9 oz, 11 oz
---
Simulates same suck, swallow and breathe patterns as breastfeeding. Unique anti-colic liner gently collapses as baby feeds, preventing air bubbles from mixing with milk and getting into baby's tummy. Less air bubbles means less gas, colic and discomfort.
The Most Like Mom NaturaLatch Nipple has a natural wide shape and a raised texture which helps baby latch on naturally. Mimics baby's latch-on like the breast for easy natural feeding.
Clinically proven to allow for a more natural feeding rhythm and promotes easy switching between breast and bottle feeding. All Playtex bottles are BPA-free.
Available Sizes: 4 oz, 8 oz
---
NUK bottles feature improved Perfect Fit nipples, providing a natural way to bottle feed your growing baby. The unique nipple shape provides the Perfect Fit in baby's mouth just like Mom.
The NUK Anti-Colic Air System helps reduce colic, gas and spit-up. Air flows through bottle and not baby's tummy for a comfortable feed.
The wide bottles are easy to use, clean, and assemble and are dishwasher safe. For best results when feeding, make sure that the NUK Anti-Colic Air System symbol is under baby's nose so that the unique drinking hole on top side is positioned correctly. NUK bottles are BPA Free and come with slow flow silicone nipples.
Available Sizes: 5 oz, 10 oz
---
The Dr. Brown's Natural Flow Wide-Neck Baby Bottles offer a wonderful feeding experience with innovative vent technology, and use a patented 2-piece internal vent system for your baby's comfort.
The breast milk or formula flows freely without nipple collapse. As the baby feeds, air is channeled from the nipple collar through the vent system to the back of the bottle. Air never mixes with the breast milk or formula so oxidation is prevented, thereby maintaining essential vitamins such as C, A and E.
The vent system eliminates air bubbles in the formula or milk, which helps to reduce feeding problems like colic, spit-up, burping and gas. All bottles are completely BPA, PVC, lead and phthalate free for your baby's safety.
Available Sizes: 4 oz, 5 oz, 8 oz, 9 oz
---
Comotomo baby bottles are deisgned to most closely mimic breastfeeding to reduce bottle rejection and nipple confusion issues.
Their naturally shaped, soft, silicone nipples are ideal for babies who have trouble transitioning from nursing to bottle-feeding. Bottles are equipped with truly innovative vents that are smartly designed to prevent colic, while completely eliminating annoying leaks.
Wide-neck design for easy, brushless cleaning, safe in microwave, boiling water, dishwashers and sterilizers. 100% safe materials: BPA, PVC, Phthalate free.
Available Sizes: 5 oz, 8 oz
---
---
The Munchkin LATCH bottle is designed to mimic the breastfeeding experience and help you reach your breastfeeding goals.
The accordion-nipple pumps back and forth as the baby applies pressure, releasing the milk as the baby sucks. This is the same pumping motion as on the breast.
The LATCH bottle features an anti-colic valve that prevents air bubbles from traveling through breast milk, reducing gas and fussiness. 100% BPA free, and top rack dishwasher safe.
Available Sizes: 4 oz, 8 oz
---
Developed with extensive research and clinical trials, these Anti-colic BPA-free bottles are proven to reduce colic and discomfort.
The unique Airflex valve integrated into the nipple flexes to allow air into the bottle, preventing vacuum build up, and preventing air into your baby's tummy.
The Anti-colic bottle nipple shape allows for secure latch and the ribbed texture helps prevent nipple collapse for uninterrupted, comfortable feeding.
Available Sizes: 4 oz, 9 oz
---
MAM Anti-Colic bottles are designed in every feature to make feeding time as easy as possible for baby and parent, from teat to base to shape to materials.
The patented vented base of the Anti-Colic bottle ensures that babies can drink calmly and relaxed. The ventilation holes in the base perfectly regulate pressure balance and airflow. As the unique MAM bottle ventilates via the bottom, milk flows undisturbed without air bubbles, without interruption.
The MAM Silk Teat has all the advantages of standard silicone: the clear material looks hygienic, it's odourless and tasteless and silicone doesn't age. Babies love the smart Silk Teat because it feels so soft and familiar, like mother's skin.
The sterilising Anti-Colic bottle can be taken apart in three easy steps and can be sterilised in the microwave quickly and easily without a separate steriliser.
Available Sizes: 4 oz, 5 oz, 9 oz
---
Thinkbaby All In One Bottle has unique, anti-colic one-piece vented nipple, allows air to flow reducing gas and spit-up and mimics natural breast feeding.
The cross-cut design of the nipples, spouts and straws eliminate spills throughout every stage. All bottle bases are made from polypropylene and spouts from extra soft, medical grade silicone. Easy to clean and dishwasher safe.
Available Sizes: 5 oz, 9 oz
---
Made from high-quality and durable materials, Chicco NaturalFit easy-to-hold baby bottle shape and innovative angled nipples nurture a perfect latch, natural cradle hold and ideal bottle feeding position.
Both the angled design and soft-as-mom's-skin materials ensure a more comfortable fit in baby's mouth. Flexors at the base of the nipple help prevent nipple collapse and allow the same natural sucking motion baby uses on the breast. The angled design also promotes an ideal feeding position and ensures the nipple stays full of milk.
NaturalFit bottles and nipples are clinically tested, anti-colic and BPA-free.
Available Sizes: 5 oz, 8 oz, 11 oz
---
The Tommee Tippee Closer to Nature sensitive tummy feeding bottle is designed for babies with excessive spit up, fussiness and gas.
The super sensitive, unique tube and valve system provides optimum venting so baby takes in more milk and less air. The soft, natural shaped nipple mimics the feel, flex and movement of breastfeeding, similar to mom's own natural feeding action providing a smooth transition between breast and bottle.
The bottle's venting tube changes color if the temperature of the milk is above the recommended 98°F. The Tommee Tippee bottles are microwave and dishwasher safe, Phthalate and BPA-free.
Available Sizes: 5 oz, 9 oz
---
How to Choose the Best Anti-colic Feeding Bottles for Newborns – Buyer Video Guide