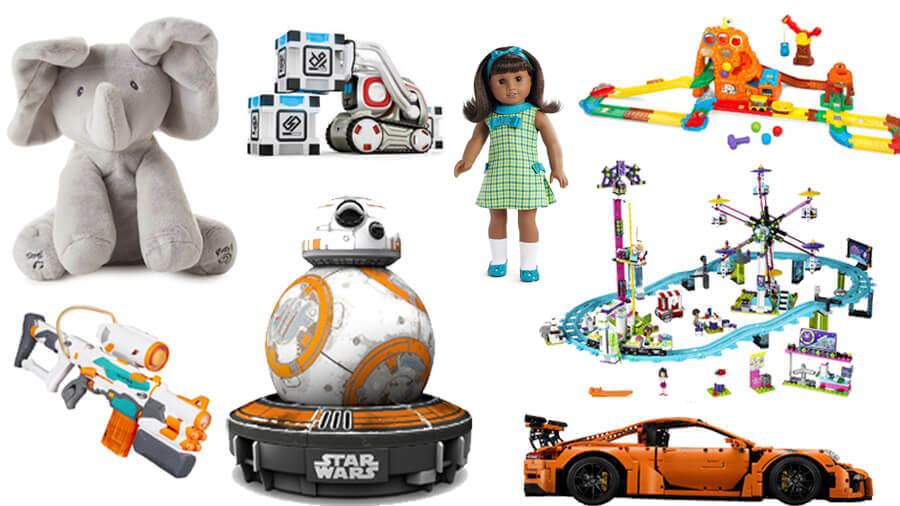 Check out these expert-selected finalists, ranging from categories such Dolls, Action Figures, Games, Tech Toys, and more, to simplify your shopping experience and help you quickly and easily discover the top toys for 2019
---
There's nothing like that special bond between a child and his or her first plush toy. The toy is specially designed to create lasting memories with our First Forever Friends.
Flappy Elephant is an excellent little toy. Plays peek-a-boo with baby when you squeeze the elephants left foot and sings 'Do Your Ears Hang Low' when you squeeze the right foot. The elephant's ears flap and covers it's eyes and has a very pleasant child's voice.
Toy is constructed from premium materials for unparalleled softness and huggability.
---
LEGO Friends 41130 Amusement Park Roller Coaster Building Kit is an awesome and a really huge game – features 4 carriages (with 4 mini-dolls: Emma, Andrea, Matthew and Naya in summer outfits), functioning light brick, entrance area with opening safety barrier, control panel with levers, camera and a long track with various obstacles along the ride.
The kit includes the rotating Ferris wheel features steps up to 6 hanging gondolas; drop tower features 2 cars with opening safety bars, exciting spinning function as it drops, and a camera; entrance booth features a rotating turnstile and a ticket office where you can buy photos from the rides.
Accessory elements include 2 tickets, coin, bill, 2 photographs, a map, boxes of popcorn, watermelon slices, apple, hot dog with bun, water bottle, soda bottle, sunglasses and a hair bow.
---
American Girl Melody Doll is a beautiful authentic 18" American Girl BeForever doll with posable limbs, and hair that can be brushed and styled, plus 'A Melody Classic' paperback novel.
Optimistic Melody Ellison has deep-brown eyes that open and close, and thick black hair. She comes in an authentic 1964 outfit:
A bright blue-and-green houndstooth A-line dress with a blue cowl collar, a blue bow on the chest, and blue bows on the side pleats
A blue ribbon headband with a bow for her hair
Underwear, Socks, and Shiny blue patent shoes with bows on the toes
---
Dash and Dot are real robots for children ages 6+ that makes learning to code fun for kids. Use your Apple, Android or Kindle Fire compatible devices to program Dash to move, dance, light up, make sounds, avoid obstacles, and even react to their voice.
With the innovative free app Wonder, kids can program Dash to be the real robot pet, pal or sidekick of their dreams. Program Dot to be a Magic Dot Ball, a Light Sword, or whatever else you can imagine!
The Wonder Pack contains everything your child would want; the Dash and Dot robots, 4 Building Brick Connectors, 2 Charging Cords, 1 Tow Hook, 1 Bulldozer Bar, the Launcher and 3 Launcher Balls, 6 Target Stickers, 2 Bunny Ears, 1 Bunny Tail and the Xylophone.
---
Funko's Pop! Action Figures is the number one stylized vinyl collectible figures on the market. Figures stands from 3 3/4 inches and comes in a window display boxes.
Collect your favorite pop-culture icons from TV, movies, video games and more.
---
---
Nerf B5577 Modulus Tri-Strike is the coolest blaster ever!
It comes with the first ever 10 round straight magazine. The barrel attachment can fit on all blasters with an attachment nozzle and gives you 4 mega darts to shoot and easily front load them. The two missle attachment parts can disconnect from the blaster and connect together to make a stand-alone blaster. Over 1000 different combinations are possible with the full system.
With the Nerf Modulus Tri-Strike blaster, kids can bring an arsenal to the game and use its versatility and power to take on a challenge!
---
Sphero Star Wars BB-8 App Controlled Robot with Star Wars Force Band is a tiny replica of Star Wars: The Force Awaken's BB-8 droid includes Strap on the Force Band that you can control BB-8 through hand gestures – push the air to send him rocketing forward, twist your wrist to turn his head or pull him back by raising your arm to your chest Darth Vader-style.
This Astromech Droid reflects the wear and tear of trekking across the galaxy on Resistance missions. Watch your Droid explore autonomously, guide BB-8 yourself or create and view holographic recordings.
---
Cozmo is an Artificially Intelligent toy truck that's also the future of robotics. Cozmo expresses real emotions in response to your actions.
Cozmo doesn't just move; he gets curious and explores. He doesn't just learn; he plots and plans. He doesn't just see you; he gets to know you. So call him self-aware, call him almost human. Just don't call him a toy. He's a supercomputer on treads. And he's fun on a whole new level.
---
It's a yeti! And he likes spaghetti! The simple game play has an amusing theme that kids and families love! Who ever pictured a yeti in spaghetti? It's just too fun!
Put the noodles across the bowl, set Yeti on top, then start pulling noodles! Just don't let Yeti fall all the way into the bowl!
---
10
Bloxels – Best Video Game Creation Platform
Bloxels is an innovative video game development platform that allows you to create your own video games. With easy-to-use physical and digital tools, the imaginative gaming worlds of young gamer's come to life in a cool retro arcade style.
You decide what the game looks like and configure how it is played. You tell the story of the characters and design their looks. You create the obstacles and the power-ups. And then not only can you play, but you can share your game with fellow gamer's for both game play and content remixing.
---
Go! Go! Smart Wheels Treasure Mountain Train Adventure is more than just a train set! It's chalk full of learning opportunities at every turn. Mine for gold and watch Forrest the freight train chug around the tracks, through tunnels and up hills on his own!
While exploring the mountain with Forrest, roll him over the nine SmartPoint locations or drop the three shape blocks into the shape sorters. The freight train responds to the playset's nine SmartPoint locations with different phrases, music and fun sound effects.
---
Experience the iconic Porsche 911 GT3 RS with this authentic LEGO Technic replica featuring a special collector's book chronicling the history of LEGO Technic and Porsche GT cars.
Build the LEGO Technic Porsche 911 GT3 RS, featuring highly detailed bodywork, rims, brake calipers, cockpit and flat 6 engine, plus opening doors, hood and rear lid.
---
Meet Paw Patrol's Zoomer Marshall – Interactive Pup with Missions, Sounds and Phrases. This cool, interactive Paw Patrol pup has plenty of personality! Over 150 Paw Patrol phrases and sounds with Zoomer Marshall!
Zoomer Marshall has 80+ interactive missions and tricks. Join him on Paw Patrol missions and use his transforming Pup Pack with spring-loaded water cannon launchers to save the day!
---
Imhotep is the legendary architect of the Egyptian monuments. This is a modern board strategy game for 2-4 players recommended for ages 10+
In Imhotep, the players take on the roles of ancient Egyptian architects. Over six rounds, they try to transport their stone blocks to end up in the most valuable positions at five construction sites: pyramid, obelisk, chamber tomb, temple, and market.